NEWS 2017

2004 - 2005 - 2006 - 2007 - 2008 - 2009 - 2010 - 2011 - 2012 - 2013 - 2014 - 2015 - 2016 -
- 2017 -

Sunday 25th June 2017
Deise Canine Club All Breed Championship Show
IR CH SIDDHARTHA

QUIRKY 'N QUAINT JUN CH


Graded Excellent 1st Champion Bitch, Green Star & Best Of Breed

SIDDHARTHA

XOTIC DANCER


Owned and Handled by Michael Scanlon


Graded Excellent 1st Junior Bitch & RGSB

Judge: Mrs P Keegan (Eire)

Saturday 24thJune 2017
Kilkenny & District Canine Club All Breed Championship Show
CH. ALILAH CLARIUS FOR SIDDHARTHA JUN CH




Graded

Excellent 1st Champion Dog, Green Star & RBOB


JUST GIVE ME A REASON OF DARKNESS FOR SIDDHARTHA

(Imp CZE)

CJW'17, JUN CH




Graded

Excellent 1st Intermediate Bitch & RGSB

SIDDHARTHA

XOTIC DANCER


Owned and Handled by Michael Scanlon


Graded Excellent 1st Junior Bitch

Judge: Mrs T Jenkins-Jago (Eire)

Sunday 18th June 2017
JUDGING AT NKK All Breed Championship Show Tromsø
I was

most pleased when the pug I chose as winner of Group 9 Puppy was also awarded


Reserve Best Puppy in Show


T

he icing on the cake

–

M

y choice for

GROUP 9 The stunning Bichon Frise


A

warded

BEST IN SHOW




C.I.B. NORD CH FI CH DK CH EE CH CZ CH EE JCH HEW-12 HEJW-12 V-14 FIW-16 DIAMELLA YOUTHFUL SUPERSTAR

Sunday 4th June 2017
Cork & District Canine Club All Breed Championship Show
CH. ALILAH CLARIUS FOR SIDDHARTHA

JUN CH




Graded

Excellent 1st Champion Dog, Green Star & Best of Breed

JUST GIVE ME A REASON OF DARKNESS FOR SIDDHARTHA

(Imp CZE)

CJW'17, JUN CH




Graded

Excellent 1st Intermediate Bitch, Green Star & RBOB

SIDDHARTHA

XOTIC DANCER JUN CH




Graded Excellent 1st Junior Bitch


Lola can now add Junior Champion to her name

Judge: Mrs N Clarke (Eire)

Saturday 3rd June 2017
Munster Canine Association All Breed Championship Show
CH. ALILAH CLARIUS FOR SIDDHARTHA JUN CH




Graded

Excellent 1st Champion Dog, Green Star & Best of Breed

JUST GIVE ME A REASON OF DARKNESS FOR SIDDHARTHA

(Imp CZE)

CJW'17, JUN CH




Graded

Excellent 1st Intermediate Bitch, Green Star & RBOB

SIDDHARTHA

XOTIC DANCER


Owned and Handled by Michael Scanlon


Graded Excellent 1st Junior Bitch

Judge: Mr S Rooney (Eire)

Saturday 27th May 2017
Irish Toy & Companion Group Dog Society Championship Show
CH. ALILAH CLARIUS FOR SIDDHARTHA JUN CH




Graded

Excellent 1st Champion Dog, Green Star, & RBOB

JUST GIVE ME A REASON OF DARKNESS FOR SIDDHARTHA

(Imp CZE)

CJW'17, JUN CH




Graded

Excellent 1st Intermediate Bitch

IR CH SIDDHARTHA

QUIRKY 'N QUAINT JUN CH




Graded Excellent 1st Champion Bitch & RGSB

Judge: Mr N Smolic (Croatia)

Sunday 30th April 2017
Fermoy Canine Club All Breed International Championship Show
CH. ALILAH CLARIUS FOR SIDDHARTHA JUN CH




Graded

Excellent 1st Champion Dog, Green Star, CACIB & Best of Breed

JUST GIVE ME A REASON OF DARKNESS FOR SIDDHARTHA

(Imp CZE)

CJW'17, JUN CH




Graded

Excellent 1st Intermediate & RCACIB

SIDDHARTHA XOTIC DANCER
Graded Excellent 1st Junior Bitch and RGSB
owned and handled by Michael Scanlon
Judge: Mr B Nodalli (Italy)

Sunday 16th April 2017
The Combined Canine Club All Breed Championship Show
CH. ALILAH CLARIUS FOR SIDDHARTHA JUN CH




Graded

Excellent 1st Champion Dog, Green Star & Best of Breed

JUST GIVE ME A REASON OF DARKNESS FOR SIDDHARTHA

(Imp CZE)

CJW'17, JUN CH




Graded

Excellent 1st Intermediate & RGSB

SIDDHARTHA XOTIC DANCER
Graded Very Promising 1st Puppy Bitch and Best Puppy in Breed
owned and handled by Michael Scanlon
Judge: Mr V Al Daghistani (Serbia)

Saturday 1st April 2017
Banbridge Canine Club All Breed Championship Show
CH. ALILAH CLARIUS FOR SIDDHARTHA JUN CH




Graded

Excellent 1st Champion Dog, Green Star & Best of Breed

Judge: Mr Johnny Muldoon (Eire)

Saturday 18th March 2017
St. Patrick's Celtic Winners All Breed Championship Show
JUST GIVE ME A REASON OF DARKNESS FOR SIDDHARTHA

(Imp CZE)

JUN CH




Graded

Excellent 1st Junior & Junior Celtic Winner Title



Also Crufts Qualified

SIDDHARTHA XOTIC DANCER
Graded Very Promising 1st Puppy Bitch and Best Puppy in Breed
owned and handled by Michael Scanlon
Judge: Mr B Blid (Sweden)

Friday 17th March 2017
St. Patrick's International All Breed Championship Show
CH. ALILAH CLARIUS FOR SIDDHARTHA JUN CH


Graded

Excellent 1st Champion Dog, Green Star, CACIB & RBOB

SIDDHARTHA XOTIC DANCER
Graded Very Promising 1st Puppy Bitch
owned and handled by Michael Scanlon

Judge: Mr Ned Burke (Eire)

Monday 13th February 2017


Westminster Kennel Club Tibetan Terrier Video
Tibetan Terrier Results


Wednesday 8th February 2017

| | | |
| --- | --- | --- |
| | What a nice post when I got home from the hospital today, Dixie's Certificate of Annual Championship. She is the top Tibetan Terrier in Ireland for 2016. With one surgery over and another looming I am delighted to welcome Scarlett Burnside on-board to handle Dixie whenever possible in 2017, I am sure Scarlett will do her the justice that I never could, and she certainly opened the year on a high note with her Reserve Best in Show on Saturday | |

Saturday 4th February 2017
The All Ireland Tibetan Breeds Association Championship Show
JUST GIVE ME A REASON OF DARKNESS FOR SIDDHARTHA

(Imp CZE)

JUN CH




Graded

Excellent 1st Intermediate, Green Star Bitch & RBOB

IR CH SIDDHARTHA

QUIRKY 'N QUAINT JUN CH




Graded Excellent 1st Champion Bitch

SIDDHARTHA XOTIC DANCER
Graded Very Promising 1st Puppy Bitch at both this and the Oriental Show
handled by Co-Owner Michael Scanlon
Judge: Mrs T Ahlman Stockmari (Finland)

ALSO
The Tibetan Terrier Club of Ireland Championship Show
IR CH SIDDHARTHA

QUIRKY 'N QUAINT JUN CH


Handled by Scarlett Burnside


Graded Excellent 1st Champion Bitch, Green Star &




RESERVE BEST IN SHOW

IR CH ALILAH CLARIUS FOR SIDDHARTHA JUN CH


Graded Excellent 1st Champion Dog & RGSD

Judge: Mr R Douma (Netherlands)

Tuesday 17th January 2017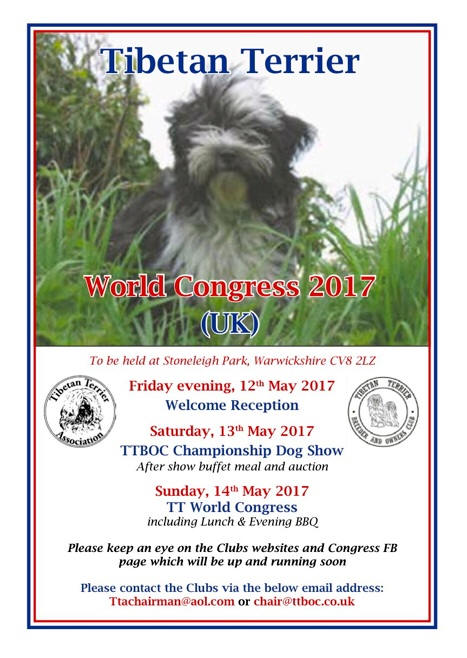 Hereunder Please Find Links to All Recent and Relevant Information
Tibetan Terrier World Congress Agenda 2017.pdf
Tibetan Terrier World Congress 2017 location.pdf
Tibetan Terrier World Congress 2017 Auction.pdf
Congress Club Letter.pdf


Sunday 15th January 2017
The Bulldog Club of Ireland All Breed Open Show
ALILAH EBONY AND IVORY FOR SIDDHARTHA
1st Junior Bitch & RBOB




JUST GIVE ME A REASON OF DARKNESS FOR SIDDHARTHA

JUN CH

(Imp Cze)


1st open Bitch & Best of Breed


Judge: Mrs Anne Boyle (Eire)

And


The Star of the Show was
SIDDHARTHA EXOTIC DANCER
who having won Best Baby Puppy in Breed went on to Win


BEST BABY PUPPY IN SHOW



Judge: Mrs S Garside (GB)
As I look forward to 2017 my heart is bursting with pride and gratitude not only to the judges who thought so highly of my Tibetan Terriers in 2016, but also to my precious friends who rallied round after my surgery. They kindly helped with all the pulling and lifting, and indeed all the other unseen things involved with showing dogs.

I was also granted the privilege to judge in Norway, Sweden and Ireland, but despite these commitments and indeed attending three family weddings, the Siddhartha Team managed to amass 32 Green Stars within the year.

Highlights of The Year



# 1 Tibetan Terrier & Annual Champion 2016 is our own bred Dixie
CH SIDDHARTHA QUIRKY 'N QUAINT JUN CH

# 2 Tibetan Terrier & # 1 Male 2016 is our own bred Zach
CH SIDDHARTHA PRIDE OF LEON



# 1

Tibetan Terrier Breeders 2016




Pipped by one point last year this year we had almost twice the points of our nearest competition



Zach (CH SIDDHARTHA PRIDE OF LEON)

became an International Champion



Midas (ALILAH CLARIUS FOR SIDDHARTHA JNR. CH)

became an Irish Champion



Rea (JUST GIVE ME A REASON OF DARKNESS FOR SIDDHARTHA Cze Imp)

became a Junior Champion



Ivy (ALILAH EBONY AND IVORY FOR SIDDHARTHA)

awarded the Green Star




at Dublin Dog Show, her debut show, and also earned the first point towards Junior Champion Title






Thank you my friends for being there for me and sharing in my joy and I hope the craic and good luck continues into 2017, not just for me and mine but for you all.